Ary Bezemer



XD. Ary Bezemer was born in Schiedam 28.06.1783 and died 27.11.1853 in Alphen a/d Rijn. Ary was a son of Pieter Besemer and Pieternella Wuijster. He was married 12.08.1813 in Amsterdam with Maria Elisabeth van Rooije, born in Voorburg 24.11.1787 an died 29.03.1860 in Alphen a/d Rijn. She was a daughter of Baarend van Rooije and Jacomina van Lutsenburg.

The family got 11 children:

Petronella Ana, born Amsterdam 24.05.1814, died 11.04.1889 Wijk bij Duurstede.


Barnardus Frederik, born Schiedam 22.08.1815 and died there 17.09.1815.


Pieter, born Schiedam 29.09.1816 and died there 03.11.1816.


Jacomina Bernardina, born Schiedam 21.10.1817, died 13.11.1906 in Renkum.


Jeannette, born Rotterdam 31.03.1819, died 12.07.1858 in Brussel, was married in Alphen a/d Rijn 17.06.1856 with Anthonie Johannes van Eelde, born in Wageningen 05.04.1816 and died in Brussel 21.06.1873. He was a son of Paulus Cornelis van Eelde and Ana Margarethe Rechter.


Maria Adriana Elisabeth, born Antwerpen 23.06.1821, died in Renkum 17.05.1901.


Ana Jacoba, born in Antwerpen 21.10.1822 and died there 24.10.1823. Twin of Frederica.


Frederica Theodora, born in Antwerpen 21.10.1822 and died there 30.10.1823. Twin of Ana.


Pieter Frederik XIC.


Jacoba Frederika, born Antwerpen 06.05.1827, died in Renkum 03.05.1906.


Johannes Cornelis, born Delft 05.07.1829 and died 13.02.1831 in Delft.


There is a testimony about the death of Bernardus Frederik, signed by Ary and his brother Cornelis.





Ary choosed the same occupaton as his father, seamanship.
Between 1791, as he as 8 years old is shipmate on his fathers ship and 1832, the year he became inspector of marine equipment and stores, he roamed around in different occupations in the navy and merchantile marine over the worldseas. He was making voyages to Brazil, East-Indien (Indonesia) and Japan. He was mentioned as "the most experienced Schiedammer of the east-indien voyages".

He is 12 as he in 1795 became "naval cadet" on the ship his father is commandant on. On an expedition, 23.02.1796, with 8 other ships, to Good Hope Cape to drive away the English from the Saldanhabay (about 100 km away from Good Hope Cape) they became prisoner of war on 16.08.1796.
After his release 10 months later he served on different ships. He asked on 13.12.1799 to be examined as lieutenant, but he has to wate and on 22.08.1800 just 17 yars old he became lieutenant. 7 days later he is again with his father on the vessel "Maasnimph".

Between 1801 and 1813 he served on the "Sibille Antoinetta" and the "Revolutie".
As he became merchantile captain in 1814 he served on the "Atalanta". Voyages to Lisbon and New York. After a two years merchantile captain period he will return to the navy as naval captain-lieutenant. It was denied, but in the same letter he became Ridder 4th class of the Military Willemsorde! He was soon after demobilized until 1829.

In the meantime he is captain for the biggest shipping company in Antwerpen, N.J. Cock. He was commanding the "Fanny, the "Aguste" and the "Vasco da Gama" (the ship his father was supervisor for).

In Rijksmuseum "Nederlands Scheepvaart Museum" Amsterdam, you can see a gravure of the "Fanny" Ary was making a voyage to Brazil in 1818/1819. And in the Maritim Museum Prins Hendrik in Rotterdam is a gravure of the Bay of Nagasaki with the "Vasco da Gama" in 1825.

Here we have a document about this voyage to Nagasaki (Desima commercial station) with some gravures in PDF only in Dutch.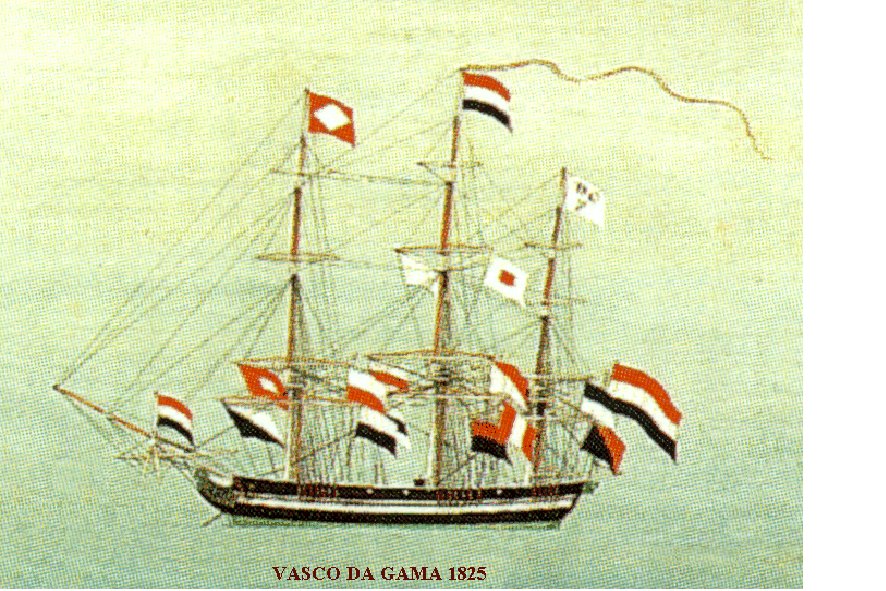 The captains had not only to do with how to saile, but they also got instuctions how to deal with the price on coffee and sugar.

In 1830 - the Belgium rebellion - Ary is back in the navy as first officer on ZM "Euridice".
The Netherlands was from 1814 artificial enlarged with Belgium to have the possibility to be a strong defence against the Frensh. However the big differnce between the North- and South Netherlands king Willem I could not join together. On 4.10.1830 proclamed Belgium his independence. The dutch army is retyring to the citadels of Maastricht, Venlo and Antwerpen. As the belgier violate a ceasefire the dutch commamder bombed the city on 27.10.1830. On 20.11.1830 Ary became Ridder in de orde van de Nederlandse Leeuw. 1.03.1831 Ary got command of the "Dolfijn" and one month later he became Captain-of-Sea. We have an official document.
In Belgium Leopold I is on the throne. In july-august 1831 the dutch troops attaced Belgium. The 10-days campaign - to recover the power of Willem I - is in the beginning a succes but failed as the Frensh helpt Belgium. Also here Ary is named.

On 1.0.1832, 49 years old, he accepted to became inspector of marine equipment and stores and said farewell to the live at sea.
He earned NLG 3600 at year with a compensation of NLG 600 "as clerck, writing materials, a.s.o."


Source:
Among other things by reading:
"This whole brave family... A Schiedams genus Bes(z)emer between 1600 and present", from Th. Bezemer july 1988.