Jan Bes(z)emer



XIII. Jan Bes(z)emer is born in Schiedam 1.06.1796 and died in Schiedam 3.12.1861. Jan is son of Arij Besemer Leendtz. and Johanna Wouterlood. He was married in Schiedam 24.12.1820 with Maartje Felix, born in Rotterdam 23.06.1800 and< died Schiedam 16.06.1852. She was daughter of Hugo Felix and Lena van Leeuwen.

Jan was soldier and lateron plumber.

The family got the following children in Schiedam:

Anna, born 25.05.1821 and died in Schiedam 8.03.1891.


Hugo, born 12.01.1823 and died in Dordrecht 10.06.1870. He is customs officer and married in Schiedam 29.11.1854 Petronella Brinkman, born Schiedam 18.11.1830 and died in Rotterdam 27.06.1891. She was daghter of Andreas Laurentius Brinkman and Catharina Groenendaal.
The family got 1 child.
1. Maartje, born in Schiedam 05.08.1851, died in Rotterdam 27.07.1921, she was married in
Dordrecht 16.09.1874 with Willem Schneider, born in Dordrecht 21.04.1853, died in Rotterdam
14.01.1920. He was son of Augustinus Schneider and Maria Kuiters.


Arij, born 11.05.1825 and died in Schiedam 15.04.1902. He is carpenter and married 1. Schiedam 15.11.1848 with Petronella Krommenhoek, born Schiedam 27.10.1823 and died Schiedam 3.12.1848. She was daughter of Jan Krommenhoek and Adriana Snelleman. Married 2. in Schiedam 21.05.1851 with Adriana Schipper, born in Schiedam 14.03.1822and died 2.08.1882. She was daughter of DirkSchipper and Klara Bruggeman. Married 3. in Schiedam 21.04.1887 Jannetje Ram, born Blokzijl 28.09.1824 and died in Schiedam 22.05.1901. She was daughter of Pieter Ram and Geertje Keysers.
From the 2. marriage Arij got 4 children:
1. Maartje, born in Schiedam 04.04.1852, died Schiedam 20.08.1855.
2. Clara, born in Schiedam 08.12.1853, died in Schiedam 22.08.1855.
3. Jan, born in Schiedam 08.09.1855, died in Schiedam 01.01.1858.
4. Dirk, born in Schiedam 4.11.1856, teacher, died in Rijswijk 04.08.1937.


Lena Maria, born 30.04.1827 and died Schiedam 8.08.1833.


Jan XIIIE.


Frans XIV.


Lena Maria, born 27.05.1834 and died in Schiedam 28.01.1917.


Catharina, born 26.02.1837 an died in Schiedam 21.04.1902.She was married in Schiedam 1.06.1859 with Paulus Mak, born Schiedam 4.12.1834 and died19.10.1916. He was cooper and son of Willem Mak and Hendrijntje Doeleman.
The family got 4 children:
1. Willem Mak.
2. Paulus Mak.
3. Andreis Mak.
4. Catharina Mak.


Gerrit, born 20.09.1840 and died 7.10.1842.


Gerrit Felix XIIIF.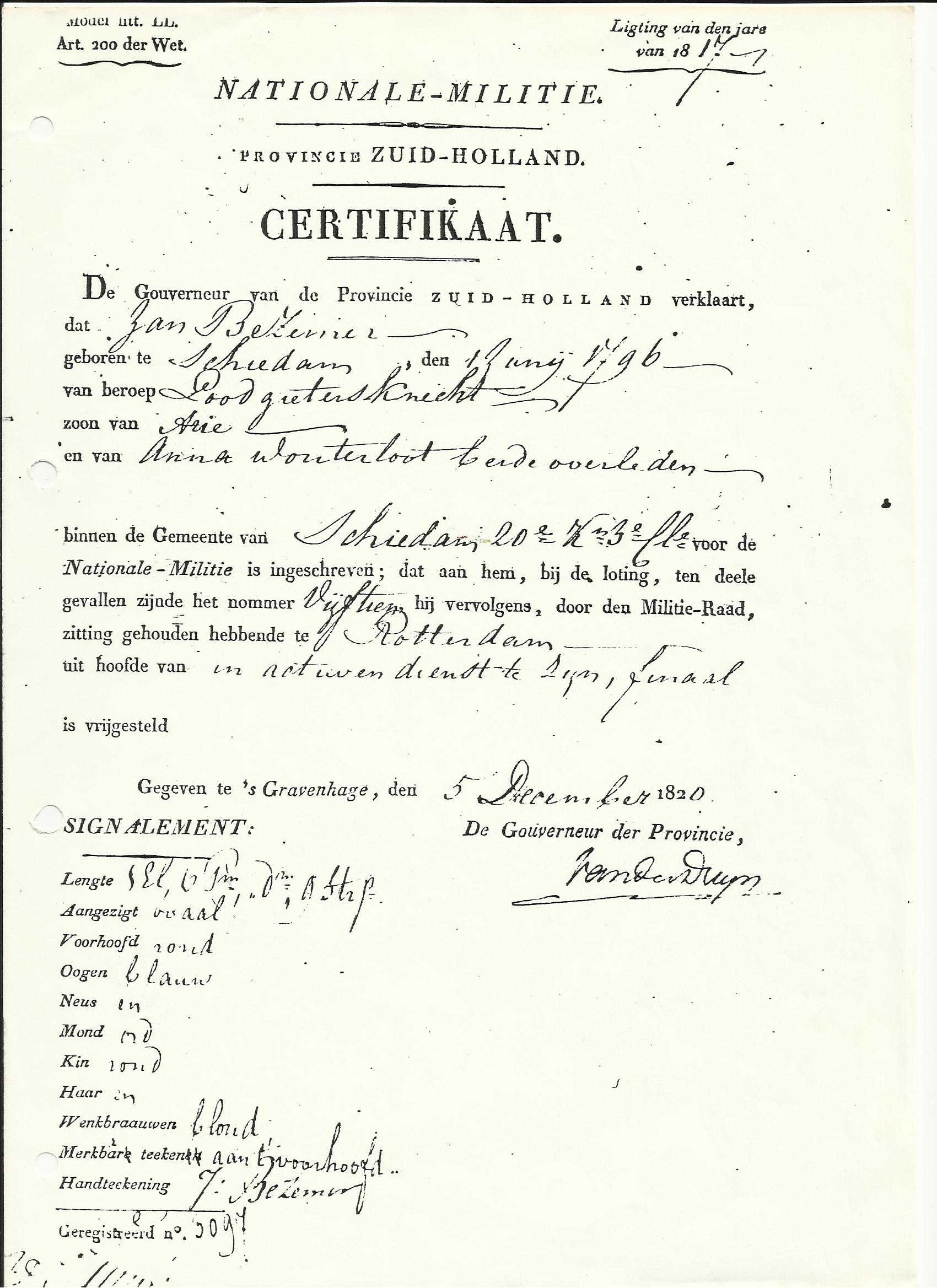 Source:
Among other things by reading our
"This whole brave family... A Schiedams genus Bes(z)emer between 1600 and present", from Th. Bezemer july 1988.